Health, Wellness & Burnout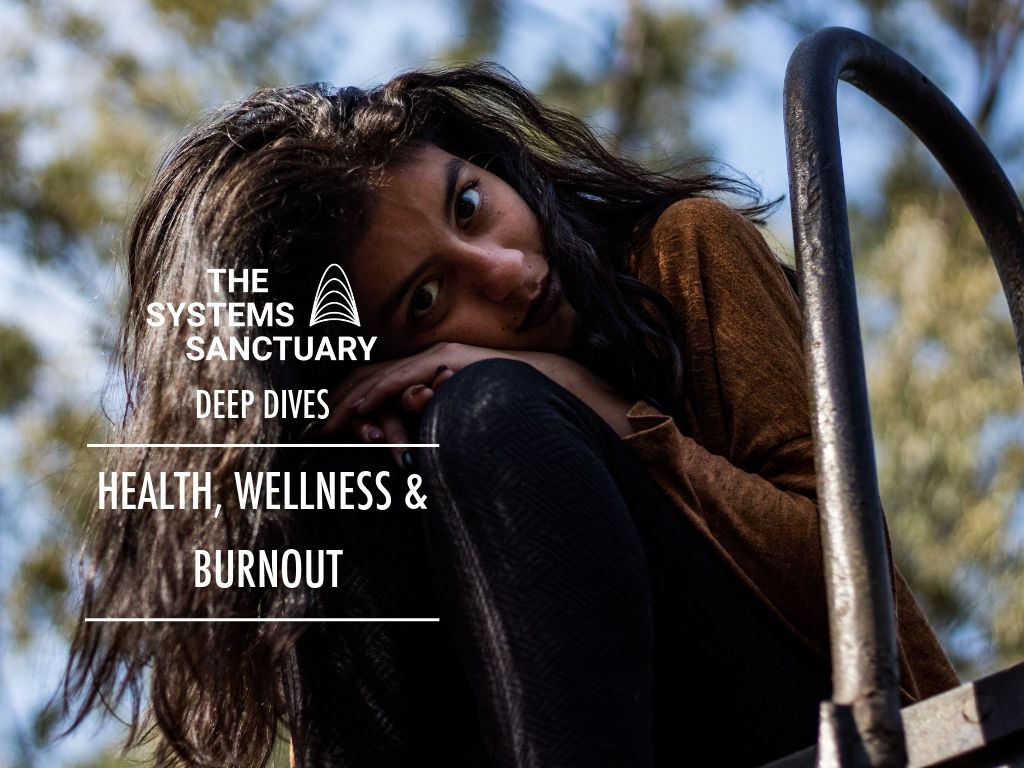 Health, Wellness & Burnout
How can we stay well and sane in the work we do? We heard over and over in both of our programs how systems leaders are stressed out, overworked and burnt out. They are struggling to find that balance of peace, passion and wellness and this is affecting both men and women
We will be offering a space to acknowledge and explore this experience. We'll offer tools to explore the patterns that lead to our exhaustion and practices to ground ourselves. As this is such a prevalent occurrence in the field, this will be a collective inquiry. We are committed to capturing and sharing this widely with the field as it develops, highlighting areas where innovation could support practitioners to flourish rather than become drained.
Who is this for?
This Deep Dive group is for women and transwomen of all ages who work in the field of systems change or adjacent fields of practice like social enterprise and design.
We've identified two patterns of burn-out in our work with systems leaders:
You are a systems leader who is running a project that has suddenly become successful. You're trying to build a strategy for systems change; you may be building an organization, leading movements, travelling extensively and are completely overwhelmed. It's draining you and blurring into your personal life in a significant way and it's not sustainable.
You are high achieving and highly driven, you love your work and have reached a level of success. This paired with real-life demands that are growing outside of work is increasingly stressful. It can look like managing elderly relatives, childcare, health or personal issues at the same time as juggling frequent travel, overtime and dealing with imbalance that is spiralling out of control. Managing a lot is one of your strengths, but you are finding it physically impossible to do all that you want to do. You are on the edge of burnout and you wonder, am I the only one finding this so incredibly hard?

What is the value?
Your body is telling you this isn't working and it's time to do something about it. Nobody else is going to do this for you. This is an opportunity to deal with the issue head on and start to put in place new patterns that help you to be more resilient to whatever comes you way.
Taking part will help shift your mindsets around self and community care, help you clarify and set new boundaries and create the much needed space and time to think this through with other women who get it. This is a chance to deepen the understanding of the systemic nature of burnout and will give you tools and capacities to advocate for change.
What will happen on the calls?
Leading experts and practitioners in the field will share their latest thinking to inform our thinking and reflection

We will create the space to exchange and learn from one another in small, intimate groups, on and off our calls

Through our peer exchanges, individual and collective reflection processes, we will be guided by our experience and the questions we are each holding.
More specifically
Virtual 1.5 hour gathering on zoom. This will including provocations from leading experts and intimate conversations in small groups. This will include small group and larger group conversations. We will surface learnings and themes from the program.

Homework - A curated list of articles, books and videos to watch in advance of and after each call to further your thinking.

Buddy call one-to-one conversation with two other participants.

Curated personal reflection practice

A designated slack channel for you to continue the conversation during and after the program has ended.
Dates
October 14 7.-00-8.30pm ET
October 30, 7-8.30pm ET
November 18 7-8.30pm ET
Our special guests
We are firming these up and will have details soon, but expect brilliant speakers.
Charlotte Z. Rotterdam is a Buddhist teacher, meditation instructor and contemplative educator. She received the title of Magyu Lopön, lead teacher of the Mother Lineage at Tara Mandala, by Lama Tsultrim Allione in 2016. She is the Director of the Center for the Advancement of Contemplative Education at Naropa University and an Instructor in Naropa's Core College and Graduate School of Psychology. Charlotte received a Masters in Theological Studies from Harvard Divinity School. The mother of two boys, she has published essays on the intersection of spiritual practice and daily life in Mandala, Lion's Roar and Fearless Nest, an anthology. www.skymind.us.
Claire Brooker, London, UK. Integrative therapist combining coaching, psychotherapy, NLP, clinical hypnotherapy and yogic philosophy.
After transforming chronic fatigue into vibrant energy 15 years ago, Claire has devoted the last 12 years to helping individuals and organizations from all over the world reach the next level with their well being. Claire has worked internationally with over 1200 clients and facilitated over 500 workshops on stress and energy management using coaching and therapy techniques based on the mind-body-heart connection.
Price
There is a sliding scale for different types of organization. Our sliding scale ensure's we are able to have a diversity of participants and takes into account the financial risk people work independently take.
Early Bird price counts before September 15, 2019. Please type EARLYBIRD in the promo code section.
Price is in USD
Corporate & Foundation $1,000, Early Bird $800 (You qualify even if you subsidize this yourself)
NGO & Government, Back-bone org and mid-size consultant: $500 and Early Bird $400 (You qualify even if you subsidize this yourself)
Independent Consultant or Practitioner: $350 Early Bird $280
Subsidy
The System Sanctuary is committed to ensuring participation of system leaders from diverse backgrounds and contexts. We recognize that system leaders are working in various ways that may impact economic security. If the proposed fees are a barrier to your participation, we offer a sliding scale.
Please fill out this form to apply for a sliding scale.
You must also have filled out the full Registration form, in order for us to process your sliding scale application. We will get back to you within 2 weeks.