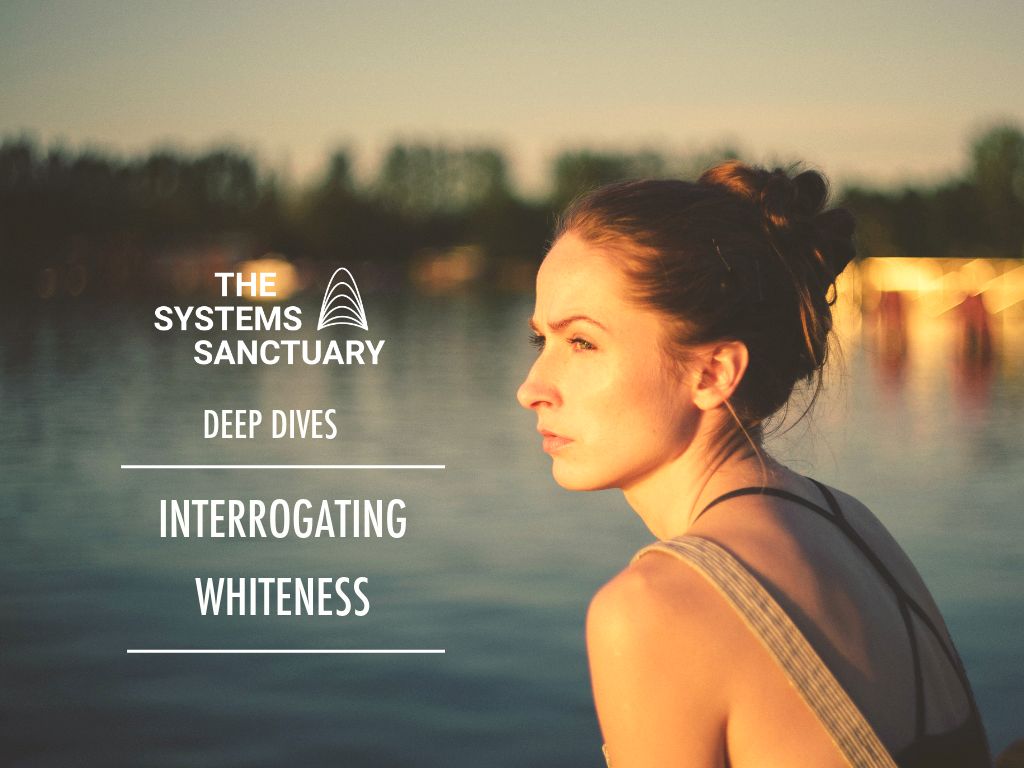 Interrogating Whiteness
Why is it, even in work committed to diversity and inclusion, whiteness often remains un-marked and unremarkable? How can change leaders alter this dynamic so that whiteness becomes a site of dynamic inquiry rather than seemingly invisible yet silently privileged and powerful centre from which otherness so often stems?
This deep dive will show how whiteness is worthy of further investigation in conjunction with anti-racist pedagogy and practice. It also stresses how white fragility often impedes these kinds of discussions due to white guilt, white paralysis, white privilege, white tears and/or white rage.
This workshop offers a variety of activities for leaders of all races that can help participants to articulate, interrogate and de-centre whiteness and white privilege.
Who is this for?
This Deep Dive group is people who work in the field of systems change or fields of practice like social innovation and social change.
This program would suit you if- you are in an established position in the field of social change and your work has some momentum, but it is not representative of the communities you are serving. Issues around racism and exclusion are bubbling up and calling to be addressed. You understand that things need to be done differently, but you are not equipped to deal with the root of the issues.
You recognize that racism and colonization are systemic in the change field. You are located with privilege in the dominant system and you recognize this and want to be part of shifting the systems in a way that doesn't perpetuate harm.
This program is open to all genders.
What is the value?
This is an opportunity to immerse yourself the theory and practice of decentering whiteness. You know you need practical tips on how to apply this in your systems change work. This is a great opportunity for you to kick-start your personal exploration.
You will gain a deeper understanding of racism, privilege, white fragility and the language and tools to engage on these issues in the work you are doing. As an organization or as a facilitator.
You will come out of this deep dive with increased awareness and foundation as well as further resources and direction for building on this base.
What will happen on the calls?
Leading experts and practitioners in the field will share their latest thinking to inform our thinking and reflection

We will create the space to exchange and learn from one another in small, intimate groups, on and off our calls

Through our peer exchanges, individual, and collective reflection processes, we will be guided by our experience and the questions we are each holding.
More specifically
Three Virtual 1.5 hour gathering on zoom. This will including provocations from 2 leading experts and intimate conversations. This will include small group and larger group conversations. We will surface learnings and themes from the program.

Homework - A curated list of articles, books and videos to watch in advance of and after each call to further your thinking.

Buddy call one-to-one conversation with two other participants.

Curated personal reflection practice
Time commitment- 3* 1.5 hours a month virtual call and to read 2 books, 1 a month.
Dates
October 14, 4-5.30 pm ET / 1 - 2:30 pm PST
October 30 , 4-5.30 ET / 1 - 2:30 pm PST
November 18, 4-5.30 ET / 1 - 2:30 pm PST
Special Guests
Ijeoma Oluo is a Seattle-based writer, speaker, and Internet Yeller. She's the author of the New York Times Best-Seller So You Want to Talk about Race, published in January by Seal Press. Named one of the The Root's 100 Most Influential African Americans in 2017, one of the Most Influential People in Seattle by Seattle Magazine, one of the 50 Most Influential Women in Seattle by Seattle Met, and winner of the of the 2018 Feminist Humanist Award by the American Humanist Society, Oluo's work focuses primarily on issues of race and identity, feminism, social and mental health, social justice, the arts, and personal essay. Her writing has been featured in The Washington Post, NBC News, Elle Magazine, TIME, The Stranger, and the Guardian, among other outlets.
Tanya Birl Torres of So Humanity in New York, who will share her practice around 'embodying change'.
Tanya has over a decade long career as an actress, dancer and choreographer on Broadway and beyond.
Over the last five years she has shifted into arts movement direction for actors, choreography, systems work and embodied systems work. Presence is her passion, trained with the Presencing Institute, as a yoga and meditation teacher and facilitator. She is focused on taking powerful ideas and visions and grounding them in the body and practice.
She often works at the intersection of arts, justice and systemic change teaching practitioners how to hold some of these hard difficult conversations coming up in our homes and work. Sharing physically how do we enter into these situations and just be. She believes that in itself is an act of justice. Using movement, yoga, creative/spiritual connection and curiosity as a means to ground, source and embody the truth of who we are. Being present in the work is the work.
Dr. Robyn Diner writes extensively about explicit whiteness and the phenomenon of "white hot hip hop" among other things pop cultural. She has a doctorate in communication studies from Concordia University and she teaches in the English Department at Vanier College. She works at the intersection of popular culture, social justice and contemporary literature.
Price
There is a sliding scale for different types of organization. Our sliding scale ensure's we are able to have a diversity of participants and takes into account the financial risk people work independently take.
Early Bird price counts before September 15, 2019. Please type EARLYBIRD in the promo code section.
Price is in USD
Corporate and Foundation $1,000, Early Bird $800 (You qualify even if you subsidize this yourself)
NGO & Government, Back-bone org and mid-size consultant: $500 and Early Bird $400 (You qualify even if you subsidize this yourself)
Independent Consultant or Practitioner: $350 Early Bird $280
Subsidy
The System Sanctuary is committed to ensuring participation of system leaders from diverse backgrounds and contexts. We recognize that system leaders are working in various ways that may impact economic security. If the proposed fees are a barrier to your participation, we offer a sliding scale.
Please fill out this form to apply for a sliding scale.
You must also have filled out the full Registration form, in order for us to process your sliding scale application. We will get back to you within 2 weeks.