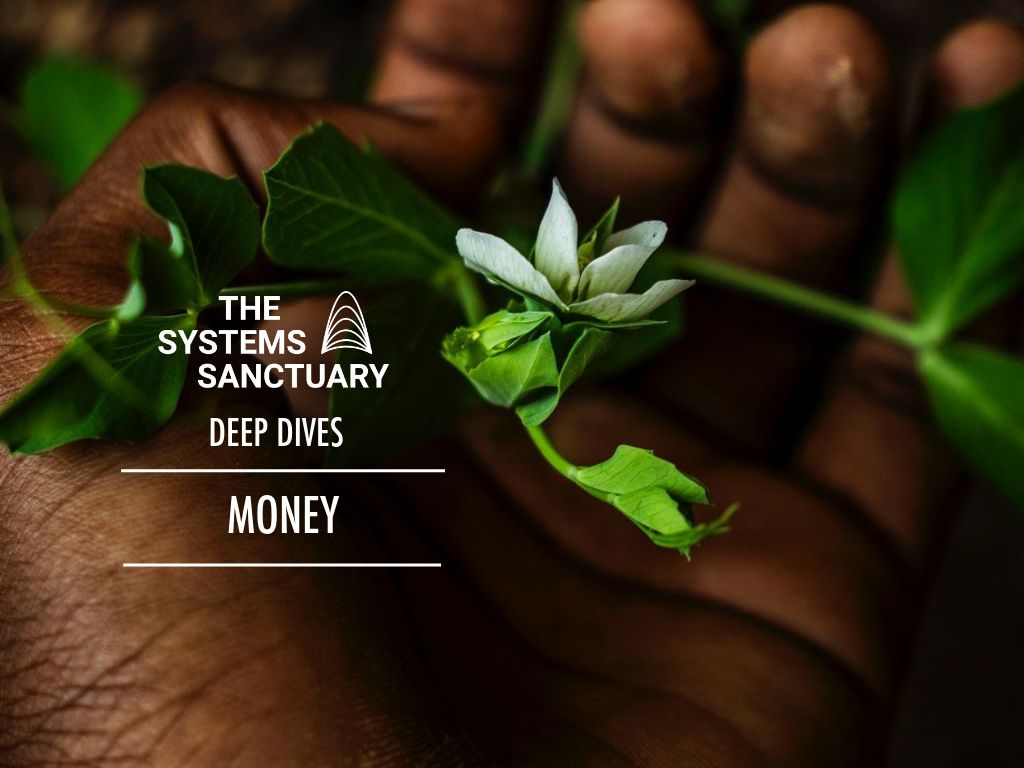 Money
Money is a taboo subject and difficult to talk about. Its a theme that also came up in many different ways in The Systems Sisterhood.
How can we be better at growing, asking for and negotiating finances? How does taboo and shame prevent positive flow of resources? How do we value our work when we are working to create positive change in the world? How do we balance valuing our experience and contribution with sustaining ourselves to keep doing the work we are passionate about and setting a fair price? This is murky water, not often discussed.
Who is this for?
This Deep Dive group is for women and transwomen of all ages who work in the field of systems change or adjacent fields of practice like social enterprise and design.
You are a systems entrepreneur. You have big aspirations about how to intervene in the system. Your ideas ideas are solid, you are building your projects out of passion, but you have to balance the level of your ambition with the reality of earning money to survive. You feel held back and frustrated, like you take two steps forward and one step back over and over again. The messages you hear about 'following your heart' and 'working from abundance' often make you feel alienated and like a failure. The level of risk you can take is negotiated with paying for the basics - food, housing and taking care of your children or other family members. You live with a constant sense of financial insecurity.
You have a big issue trying to understand your own value. This shows up when you're negotiating consultancy contracts, or your salary. You are often working for free; whether its overtime or as a participant in an initiative. You find yourself questioning how to ask for fair compensation and how to negotiate when you're working for social change. You know that women are funded and resourced less than men, and have less power and authority making resource and funding decisions. You want to navigate and change these systems in a way that feels right.
What is the value?
This program will create the space where you can acknowledge the burden of this responsibility, and remove the sense of shame you hold around money, or lack of it.
Specifically we will be helping you shift your mindset around how much you are worth, give you practical strategies about how to manage your money better and we will share systems change frames to help you see the larger picture and opportunities to shift our collective consciousness about money.
You will leave feeling less alone and more empowered to call for change.
What will happen on the calls?
Leading experts and practitioners in the field will share their latest thinking to inform our thinking and reflection

We will create the space to exchange and learn from one another in small, intimate groups, on and off our calls

Through our peer exchanges, individual and collective reflection processes, we will be guided by our experience and the questions we are each holding.
More specifically
Three virtual 1.5 hour gathering on zoom. This will including provocations from leading experts and intimate conversations in small groups. This will include small group and larger group conversations. We will surface learnings and themes from the program.

Homework - A curated list of articles, books and videos to watch in advance of and after each call to further your thinking.

Buddy call one-to-one conversation with two other participants.

Curated personal reflection practice

A designated slack channel for you to continue the conversation during and after the program has ended.
Dates:
We will meet three times over the course of the series
October 14 12-1.30 pm ET / 9 am - 10:30 PST

October 30 12-1.30 pm ET / 9 am - 10:30 PST

November 18 12-1.30 noon ET / 9 am - 10:30 PST
Our special guests :
We are firming these up and will have details soon, but expect brilliant speakers.
Claire Brooker, London, UK Integrative therapist combining coaching, psychotherapy, NLP, clinical hypnotherapy and yogic philosophy.
After transforming chronic fatigue into vibrant energy 15 years ago, Claire has devoted the last 12 years to helping individuals and organizations from all over the world reach the next level with their well being. Claire has worked internationally with over 1200 clients and facilitated over 500 workshops on stress and energy management using coaching and therapy techniques based on the mind-body-heart connection.
She leads workshops on uncovering hidden money blocks, giving you a strategy for negotiating rates/salary, and helping you switch into the best state of mind and body to have those crucial money conversations.
Donna Morton Co-Founder, Change Finance
Donna Morton is a lifelong serial social entrepreneur and an Ashoka, Unreasonable and Ogunte fellow. She has co-founded charitable organizations like the Centre for Integral Economics which helped put tax shifting on the map in Canada; CEO First Power which integrated art and clean energy to support Indigenous communities; Co-founder and CEO of Change Finance and rang the bell at the New York Stock Exchange launching the first 100% fossil free ETF on Wall Street and now currently is a co-founder and VP of Impact at LumenFarm a tech start up that aligns people's values with their purchasing decisions.
Donna has spent more than years working on Buckmister Fuller's dream of a world that works for 100% of humanity [and every living thing]. She considers the unceded territory of the Coast Salish Victoria BC and Coastal Miwok people in Oakland California to be home. Donna's favorite identifies are as storyteller, dancer and mother. Her spirit and optimism are fed by poetry, nature and conscious, kind people doing big and bold things that really matter.
Learn more about Donna's work at www.lumenfarm.com
Price
There is a sliding scale for different types of organization. Our sliding scale ensure's we are able to have a diversity of participants and takes into account the financial risk people work independently take.
Early Bird price counts before September 15, 2019. Please type EARLYBIRD in the promo code section.
Price is in USD
Corporate and Foundation $1,000, Early Bird $800 (You qualify even if you subsidize this yourself)
NGO & Government, Back-bone org and mid-size consultant: $500 and Early Bird $400 (You qualify even if you subsidize this yourself)
Independent Consultant or Practitioner: $350 Early Bird $280
Subsidy
The System Sanctuary is committed to ensuring participation of system leaders from diverse backgrounds and contexts. We recognize that system leaders are working in various ways that may impact economic security. If the proposed fees are a barrier to your participation, we offer a sliding scale.
Please fill out this form to apply for a sliding scale.
You must also have filled out the full Registration form, in order for us to process your sliding scale application. We will get back to you within 2 weeks.